Held at the Grand Copthorne Waterfront Hotel
15th October 2019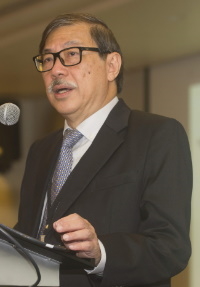 Professor Leslie Chew
Opening Remarks
Professor Leslie Chew – President of the Expert Witness Institute Singapore Branch and former Senior Partner and Consultant of Withers Khattar Wong. He is now Dean of the School of Law at the Singapore University of Social Sciences. He gave a kind welcome to everyone and also emphasised that this was the first conference to be held by the branch since its establishment on 19th May 2019. He expressed his thanks to EWI in London and Sir Martin Spencer (Chairman) for their support.
Patron's Message
Sir Vivian Ramsey – former UK High Court construction judge and current justice in the High Courts in Singapore referred to the need for experts in the litigation process. He said that there was increasing complexity of litigation matters and that experts were therefore pivotal in the litigation process. Many cases need technical input. There was a high quality of expert evidence. He proposed the need to have a register so that experts can be easily found by the judiciary and also counsel in the litigation process. Experts needed to restrict themselves to their own area and to have a specific expertise and the ability to help a court. Often there are unclear questions to the expert and litigation solicitors should try and ensure that these are as clear as possible.. Care should be taken in expressing the views of others. It must be clear what you bring to the party. Be very careful of experts reports which have been drafted by the lawyers.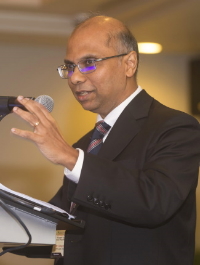 Gregory Vijayendran
Keynote speaker
Gregory Vijayendran – Key note speaker for this conference and also is the President of the Law Society of Singapore, he made reference to the Woolf Reforms and the need to ensure that litigation is done efficiently and at a cost commensurate with the case in question. He went on to discuss the use of Single Joint Experts, where a sole expert is either chosen by both parties or by the judge. He discussed the benefits of reduced cost but lamented the fact that the expert opinions were not normally challenged in these cases. He emphasised that the use of the adversarial process in common law systems meant that opinions were properly tested. He also looked at the position where undue pressure was exerted from the instructing solicitors and the dangers that this posed. Sometimes experts can become more extreme than their instructing parties, which was felt to be regrettable. He continued that there were situations in some Asian markets where there was excessive use of experts which then incurred excessive costs.
Session 1 – Expert Evidence in Singapore
The first discussion session was chaired by Derek Tan, Managing Director of Stoa Law in Singapore. He was joined on the podium by Professor Leslie Chew, Ms Gho Sze Kee, LCC manager of the Shipowners' Club, Singapore and Tan Teng Hooi, Associate Professor and Head of the Building and Project Management Programme at the Singapore University of Social Sciences.
As the need for experts increases, long-standing concerns about the independence of party-appointed experts and increased costs naturally arise.
One of the great strengths of the Singapore legal system is its willingness and ability to adapt and change with the times. The Court decision to move from a paper-based system to an electronic system is an example of this.
At present, there are proposals that will change how expert evidence will be adduced in proceedings in the Singapore Court. The most significant of these proposed changes would be the move away from party-appointed experts as the default position and the move towards having a joint-expert as the default way of adducing expert evidence.
Assuming the proposals are not implemented at the time of the Conference, the session is intended to:
Review the pros and cons of the current system;
Discuss the issues that are likely to arise if and when the proposed changes are implemented; and
Encourage an exchange of ideas on how pitfalls can be avoided and how the system can be further improved.
Assuming the proposals are implemented at the time of the Conference, the session is intended to:
Review the pros and cons of the previous system;/li>
Discuss the issues that have arisen and/or are likely to arise from the changes; and
Encourage an exchange of ideas on how potential pitfalls can be avoided and how the system can be further improved.
Professor Leslie Chew provided information on the definition of an expert drawing on the Singapore Evidence Act, section 47. How do we know who is a good expert? The proposal for an Accreditation System was discussed. The training and education of experts in the legal process was considered mandatory so that experts can play their part correctly.
Session 2 – Developments in Expert Evidence in the Asia Pacific
The second session discussion was led by John Gibson – an international shipping expert at Brookes Bell. He spoke situations where an expert can raise the cost of litigation. Drew James spoke about the Court Codes (or rules for experts) at the Federal Court in Australia (Note GPN-EXPT by JJB Allsop dated 25th October 2016) and at the state level (e.g. New South Wales Consolidated Regulations – Uniform Civil Procedure Rules 2005, Reg 31.23 Code of Conduct and 31.25). James Monteiro drew attention to the Malaysian experience of using experts, including situations where judges have taken it upon themselves to be the expert.
John Battersby, a Construction Expert Quantity Surveyor based in HK has worked throughout Asia. He considers that methods of measurement can be very confusing and there need to be more generally adopted standards. There is a need for rules for practising experts and training to be an expert witness. His experience was mainly working as a party-appointed expert. Finds the experts' meeting very useful and it can lead to clearer focus on the issues. 'Hot tubbing' very good for resolving delay problems. He finished by drawing on the need for bringing on new talent.
Paul Aston of HFW gave the lawyers' view. Experts are there to help the litigation process and this should be remembered at all times. He spoke about the principles behind the Ikarian Reefer requirements.
Phillips v Symes (Costs No 2) [2004] expert's report lacked objectivity and common sense. Could result in additional costs.
Independent reasoning needed by both experts and lawyers.
Experts who come back after the experts' meeting and have a different view – may have been nobbled by their lawyers so that they cannot concede a point.
Need to have experts in computational fluid dynamics to provide experience and knowledge in that area.
Sometimes the young expert has better knowledge in an area.
John Gibson – Obligations to the expert are the same irrespective of the size of the claim. Expert needs to have first-hand knowledge of the instances in question.
Expert's role of mediation. Although a very strong requirement for experts, however it requires caution as the expert can be asked to take on the role of an advocate.
Session 3 – Expert Evidence in International Arbitration
Iain Potter, Director of Matson Driscoll & Damico Ltd, a firm of forensic experts and accountants Singapore led the discussion. Ms Christine Artero, an International Arbitrator with The Arbitration Chambers (Singapore) and Fountain Court described her experiences with international arbitration in Asia. Mr Stephen Cheong, Director of Morgan Lewis Stamford LLC, Singapore told the story of a 6th Avenue flooding of box drains that led to the flooding of an underground car park with a number of vintage cars. Case done by 'hot tubbing'. This was proposed by the Judge and accepted by both parties. The two experts asked each other questions and learnt a lot from the experience. Make sure you have an expert who has the ability to hold his own in a hot tub. Ms Charis Tan, Director of International Arbitration at DWF – described the Michael Huang Protocol. Structure to how hot tubbing is done. Usually used for expert witnesses, not usually for factual witnesses. Take each issue in turn, e.g. what is the view on the price of gas in 2000. Three main methods – Arbitrator needs to be well prepared and knowledgeable on the subject as he is going to be asking the questions. Arbitrators normally get the claimants' experts to go first. Arbitrator will then ask a question of the claimants' expert followed by the defendants' experts. Then can rephrase the question to the claimants' expert again.
Alternatively, this can be achieved by a panel discussion with each person as long as each person is as keen to provide their view. Counsel can jump in at any time and ask questions.
Finally, the claimants' expert is allowed to ask the defendants' expert questions. Each can challenge the other.
The final method is becoming increasingly proposed.
Efficient – all angles on the point are expressed at the same time.
Effective – Most people are unlikely to be misleading in front of their professional peers.
Credibility – Important at all times.
Other points that were discussed were:
No protocol to how the hot tubbing should be undertaken.
Hot tubbing is not always liked by Judges and arbitrators as it requires them to be fully informed and knowledgeable on the subject.
The Joint statement should produce a very outcome to the hot tub.
Relationship between experts and litigants is a very bad idea.
Language – very difficult if the expert does not speak English as their mother tongue.
Use of law experts on matters of foreign law.
Discovery. What is privileged in arbitration? Instruction can be released but draft reports are privileged. Not a problem in international arbitration.
Experts should be comfortable in their own skin. Just turn up and ensure to be seen around on the circuit.
Derek Tan, John Gibson, Iain Potter and Thomas Walford
Session 4 – Expert Evidence – Where it is now and where is it Heading?
The final session was a panel session led by Derek Tan and involving John Gibson, Iain Potter, and Dr Thomas Walford, CEO of Expert Evidence. In this segment of the Conference, we assemble the moderators of the earlier sessions and bring to bear the combined "wisdom" of the earlier sessions, to first undertake an overview of where expert evidence is today and second, to do a little crystal-ball gazing to perhaps foreshadow what is in store for expert evidence in the era of disruption. They will be asked to touch on aspects of expert evidence which may be on our minds but which may not be part of the current discourse.
Essentially, this session invites the participants to pose questions, even those without answers, so as to encourage the community of experts, and users of expert evidence, to ponder over what might be new but urgent issues. How might technology weigh in to enhance the role of expert testimony in dispute resolution? Or will technology disrupt the expert evidence space altogether; will there be a need for expert evidence in the conventional sense? Could, for example, expert evidence be replaced by Artificial Intelligence?
Dr Thomas Walford
Thomas Walford drew attention to the case of Kenney v Cordia Supreme Court [2016], which specifically identified the expert's role in connection with:
The admissibility of evidence – Four considerations should be taken into account here:
whether the proposed skilled evidence will assist the court in its task;
whether the witness has the necessary knowledge and experience;
whether the witness is impartial in his or her presentation and assessment of the evidence; and
whether there is a reliable body of knowledge or experience to underpin the expert's evidence.
The responsibility of a party's legal team to make sure that the expert keeps to his or her role.
The court's policing of the performance of the expert's duties
Economy in litigation
He also drew attention to The Dream Star case collision with Meghna Princess on 16th May 2014 and the Murder trial of Oscar Pistorius regarding the case of Reeva Steenkamp in 2014. In both cases the expert with a duty had confused the position with also having different obligations to others. The court took a very poor view of this and the practice should be avoided.
Concluding Remarks
The conference was concluded by Dr Thomas Walford, who gave the closing remarks. He wanted specifically to thank our sponsors, without whose contribution we would not have been able to hold this conference:
Singapore University of Social Sciences
Brookes Bell
Expert Witness, an international directory of experts
Expert Evidence International Limited – a partnership of experts in finance and banking.
Our Supporting organisations:
The Chartered Institute of Building
The Institute of Singapore Chartered Accountants
Singapore Institute of Arbitrators
The Law Society of Singapore
The Singapore Chamber of Maritime Arbitration
Royal College of Chartered Surveyors
Singapore Institute of Arbitrators
Singapore Institute of Architects
Singapore Institute of Surveyors and Valuers
Society of Construction Law Singapore
Society of Naval Architects and Marine Engineers – Singapore
Society of Project Managers
And the Singapore Institute of Legal Education who have approved this as a CPD Activity.
Our Speakers and particularly Gregory Vijayendran as our key note speaker.
The Singapore Register of Societies who approved our registration during the last year.
Our Team at the EWI Singapore
Professor Leslie Chew (President) – without whose guidance and tireless work we would never have achieved this.
Sir Vivian Ramsey – who has acted as our Patron
Chan Leng Sun SC Secretary
Derek Tan Jet Wah Treasurer
David Lee Committee Member
Christopher Easton Committee Member
Thomas Walford Committee Member
Tan Beng Hwee Paul Committee Member
John Gibson Committee Member
Iain Potter Committee Member
A/P Tan Teng Hooi Committee Member
Our Secretarial activities provided by June Tan and her team at Intelli.Asian
As the world becomes more complex, so the types of dispute in litigation, arbitration and mediation have become more involved. This has made the contribution of experts all the more important.
The Expert Witness Institute is here to provide support and assistance to Experts in the Asian Courts.
Expert Evidence International Limited prides itself on assisting throughout the legal process where required and is a professional firm concentrating on the four main areas of dispute resolution; acting as expert witnesses in financial litigation, mediation, arbitration and adjudication. The firm has a civil, criminal and international practice and has advised in many recent cases. Areas of specialisation include banking, lending, regulation, investment, and tax.
Ask a question about Expert Witness services. We are here to help!

Contact Us Now
Disclaimer – Please confirm any of the above views with your solicitor. Expert Evidence takes no responsibility or provides any guarantee that the views above are correct for your particular case or jurisdiction.