Investment Management
Investment management is the professional management of securities and other assets with the aim of reaching the investment objectives of the investors. Investment managers are required to have a detailed understanding of their client's goals so that appropriate investments can be made on their behalf. The investment manager's job has become increasingly delicate in recent years given the changes to the economic landscape which have resulted in changes to the appropriate investments for achieving specific objectives.
At Expert Evidence, our experts have extensive experience in managing funds for clients and are able to assess correct investment methods and strategies. We have been involved in multiple cases involving investment management including cases involving offshore clients and offshore banks. We have also opined on the obligations of investment managers in the provision of advice.
Investment Objectives
An investment objective helps determine the financial goal of an investor and therefore the right investment strategy. Client information such as current net worth, investment time horizon and risk tolerance is used to identify the appropriate portfolio.
Poor Investment Performance
When an Independent Financial Advisor ('IFA') underperforms the stock market, it can often be bad news for their clients as they won't realise the expected return on their investment. Bad luck or bad advice can both be causes of poor investment performance, but in the latter case our team of experts can help assess the investment strategy and advise on whether inappropriate advice has been given.
Given the traumas of the investment markets over the 2007-2009 period, a number of clients and banks have lost substantial funds which are considered caused by the actions by professionals who have provided advice. Expert Evidence has considered a number of cases on behalf of the Professional Indemnity insurers and determined if there is a cause for action or not. Professional advisors can include Surveyors, Independent Financial Advisors and Investment Managers which need to act in an appropriate fashion to avoid charges of negligence. Consideration of the investment environment and basis of the professional decisions is highly pertinent to the consideration of the evidence.
Excessive Risk
Expert Evidence have provided evidence in cases where portfolios were managed with an inappropriate risk profile and substantial costs were incurred through investment in over-risky assets and in many cases surrounding the following of orders from clients, including where it was necessary to consider a manager's obligations in the execution of orders and where an order was misinterpreted by the investment manager.
Suitability for Advice
Since the introduction of the Conduct of Business Sourcebook Rules ('COBS') on the 1st November 2007, the requirements of an investment manager have become significantly more onerous around understanding the particular circumstances of the clients and their background in relation to the investment markets. This is normally referred to as Appropriateness and Suitability which needs to be satisfied for all retail clients. The investment requirements in the case of more sophisticated clients, usually called intermediate clients, is significantly less but then the investment institution must be able to show that the client has appropriately classified. This area has led to many cases over the years and Expert Evidence has advised in a number of situations where the case has been decided on these requirements.
Appropriateness of Investment Service
We have also been able to provide evidence in trust cases, such as where inappropriate actions were taken by offshore trustees on behalf of beneficiaries, and in cases of professional indemnity against independent financial advisors, surveyors and accounts, including where a consideration of the obligations of independent financial advisors was necessary.
Inappropriate Products
One of the key causes of the global financial crisis in was the mis-selling of subprime mortgages in the US which then had knock-on effects across the rest of the world. Since the crisis, regulators worldwide have introduced policies that aim to crack down on the mis-selling of products and the promotion or selling of inappropriate products. The Financial Conduct Authority ('FCA') has found that some promotions for financial products are still falling short of its rules, and businesses need to do more to ensure that advertisements do not mislead consumers.
Treating Customers Fairly
All companies regulated by the Financial Conduct Authority ('FCA') must support the TCF (treating customer fairly) principle and its 6 outcomes. The TCF principle aims to increase consumer confidence in the financial services industry and financial services products, and to ensure companies adhere to an agreed best practice standard.
Clear, Fair and not Misleading Role (FCA general principles)
The FCA principle states that a company or financial institution must ensure that a communication or financial promotion is clear, fair and not misleading. This aims to help customers have a clear and accurate understanding of the products available to them. Expert Evidence has a wealth of experience in the current investment management environment and is able to provide you with expert assessment and advice on complex cases. Read more about our cases.

Contact Us Now
Expert Witnesses:
Thomas Walford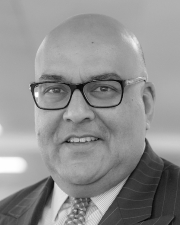 Ausaf Abbas