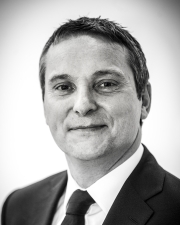 A qualified, career business banking / commercial banker with a wide range of employment and role experiences in the UK residential and commercial property lending markets.
Areas of Expertise
Buy to Let lending (individual and professional / corporate);
Commercial property investment lending – all aspects;
Commercial property development lending – all aspects;
Professional advice / negligence / role of professionals in property lending;
Credit / underwriting – considerations, processes and decision making – for property lending;
Restructuring / workout and insolvency options for property lending; and
General banking : customer relationship & contractual issues.
EMPLOYMENT HISTORY
Director, Credac Limited from January 2016 to present
Founder of commercial banking and management consultancy providing :
Lending / banking expert services to UK wide solicitors via Expert-Evidence.com;
Banking consultancy for either businesses or funders – negotiating debt restructure/workouts or sourcing new finance, general banking advice and support;
Interim management services for either businesses or lenders;
Non Executive role availability.
Head of Asset Management Group from September 2012 to December 2015
Principality Building Society
Cardiff, UK.
Recruited to manage diverse range of commercial workout / turnaround cases from £1m-£30m debt size;
Delivered de-leverage of c 90% of portfolio by variety of insolvency, turnaround / workout and asset sale mechanisms and all within agreed impairment budget;
Restructuring / workouts delivered material income gains and all disposals; and
Member of various Senior Management Committees and a number of Board level presentations.
Head of Bristol & West Property Finance ("B&WPF") from August 2004 to June 2012
Bank of Ireland Group
Bristol / London, UK
Executive P(L) responsibility for B&WPF book;
Managed seven teams over two locations with , at market peak, in excess of 40 property finance professionals;
Recruited to grow B&WPF investment & development book : double digit % asset growth each year 2005-2008;
Subsequently oversaw de-leverage between 2009- 2012 ; c 50% of book by volume de-levered within 3 years;
De-leverage achieved within impairment parameters & with negligible reputational & regulatory issues;
Member of Business Banking UK Management Board and UK De-leverage Committee as well as underwriting mandate and member of Business Banking Credit Committee.
Director, Property Finance from November 2000 to May 2004
Julian Hodge Bank / The Carlyle Trust
Cardiff, UK.
Recruited to run small "boutique" commercial lending activities of privately owned, family business;
Focus on real estate : debt, mezzanine and equity participations in £1m- £10m range;
Exposure to off balance sheet and / or JV structures via offshore parent company;
Member of Group Management and Credit Committees.
Senior Area Manager from February 2000 to September 2000
Royal Bank of Scotland Group
North and East Yorkshire, UK
Recruited to lead team of commercial bankers at time of RBS takeover of National Westminster Bank plc; and
Proposed role disappeared during restructure.
Various roles from October 1991 to February 2000
Barclays de Zoete Wedd ("BZW") / Barclays Corporate Banking
Various Locations.
Joined Barclays Group Graduate Management Development Programme in 1991;
18 months in London in branch banking, credit and corporate banking followed by 18 months in Tokyo as both PA to Country Manager and also secondments with all BZW investment bank divisions;
Appointed Corporate / Relationship Manager in Manchester in early 1995 with portfolio SME and real estate clients;
Promoted in 1997 to join BZW European Real Estate team in Paris as Associate Director; and
Promoted in 1999 as Head of Corporate Business to lead North and East Yorkshire Corporate Banking Team, team of 9 Relationship Managers.
QUALIFICATIONS
Associate of Chartered Institute of Bankers, 1994.
MSc Human Resource and Strategic Management, School of Management , Manchester University, 1991.
BA Hons Upper Second in Business Organisation, Heriot Watt University, Edinburgh, 1989.
Primary cases include:
Mortgage Express v CountryWide Surveyors [2016]
Email: [email protected]
Phone: +44 20 7884 1000 or +44 7971 078977
Areas of Expertise

Contact Us Now