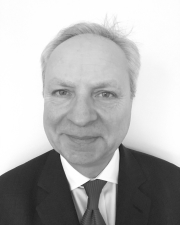 Jonathan is dual qualified in finance and law, qualified as a barrister in 1981 and then having undertaken a wide range of investment banking roles over a period of more than 30 years, including capital markets, corporate finance, privatisation, venture capital, private equity and real estate finance and investment. He was made a Chartered Fellow of the Chartered Institute for Securities & Investment in 2011.
Jonathan has extensive experience in managing investment banking client relationships, having dealt with a diverse portfolio of customers whilst on the 'buy side' of the capital markets team at two major Japanese investment banks. These relationships included a number of government agencies in the UK and abroad, particularly during the period he spent working on privatisations of state owned enterprises. He subsequently moved to Thailand to assist Siam City Bank establish an investment banking subsidiary in the process expanding his knowledge of the Asian financial scene.
Having established a reputation as an innovative financier, Jonathan returned to the UK and turned his attention to a specialist sector of the real estate market, the serviced office and business centre industry. Deciding that the sector was under-served by banks and investors, he persuaded a UK merchant bank to set up a fund for investment in the sector which Jonathan designed, launched and managed, as the first public fund in the world for that industry.
Following a change of strategy at the merchant bank in the aftermath of the financial crisis, Jonathan joined with a number of friends and colleagues to set up a venture capital partnership specialising in early stage technology companies. He has maintained this interest in venture capital by lecturing on the subject at the Grenoble Ecole de Management, one of France's leading grandes ecoles, and by backing a former student with seed capital for his predictive data analytics business, which is active in the field of crypto currencies.
During the 2000s he acted as a non-executive director of a UK friendly society, including a period as President of the society, and played an active role, during the financial crisis, in negotiating with the FCA and prospective buyers of the society for the eventual takeover of the society in order to shelter its members from any loss following the actuarial insolvency of the society.
Expertise in the following detailed areas:
The issue and trading of international bonds, Eurobonds, Floating Rate Notes, Floating Rate CDs, convertible bonds, dual currency bonds, commodity linked bonds, medium term notes and note issuance facilities and programmes, and syndicated loans, issued by or made available to governments and public sector bodies, companies, partnerships, individuals and other entities.
Due diligence related to the issues of debt or equity securities.
Fraud related to the sale of unregulated investments to individual investors
Sector specific finance and investment for business centres, serviced offices, managed offices and other flexible office or workspace use and the services associated with such types of real estate.
The creation management and regulation of venture capital funds and trusts and venture capital and private equity investment in general.
FCA regulatory issues including treating customers fairly, acting with integrity, the avoidance of conflicts of interest, anti-money laundering and sanctions.
Financial restructuring following financial distress.
Mergers and Acquisitions and the due diligence related to such transactions
Qualifications
Barrister at Law
Chartered Fellow of the Chartered Institute for Securities & Investment
Areas of Expertise
Email: [email protected]
Phone: +44 20 7884 1000 or +44 7931 371867

Contact Us Now