The conference is due to be held at the Grand Copthorne Waterfront Hotel in Singapore on 15th October 2019. To celebrate this event the Expert Witness magazine has featured a frontpiece and articles about the work of Expert Witnesses in Asia. We are particularly pleased to have been able to contribute an article about working as an international expert witness so that others may be able to also contribute to this important function in Asia.
EWI Singapore will support the growing body of professionals providing expert witness services to courts and tribunals in Singapore and across Asia. EWI Singapore will serve the burgeoning Asian legal market with plans to increase the number of accredited expert witnesses available to share their knowledge with lawyers across a wide range of sectors including construction and finance.
EWI Singapore's founding committee of experts and dispute resolution practitioners is led by President, Professor Leslie Chew SC and Vice President, Mr Chan Leng Sun SC.
Its objects are:
To provide support to and an organisation for experts, appearing in Courts and Tribunals in South East Asia, of all professional disciplines and other occupations requiring skills and judgement.
To provide training for experts, who provide reports for Courts and Tribunals in South East Asia, whether by way of courses, seminars, conferences or otherwise to maintain and enhance high professional standards in expert witnesses and their status.
To act as a voice for expert witnesses, which may include communicating to the media factual information concerning its work or court cases its members are involved in.
To encourage lawyers to make use of experts wherever specialised knowledge is required.
To work actively with other Professional Bodies and Associations to ensure that any of their members who wishes to be an expert witness has the necessary education, training, support and ability.
To carry on any trade or business which can, in the opinion of the Committee, be advantageously carried on by the Society, and to do all such other things as are incidental to, or which the Society may think conducive to the achievement of the objects of the Society.
Please click on the image to download the article.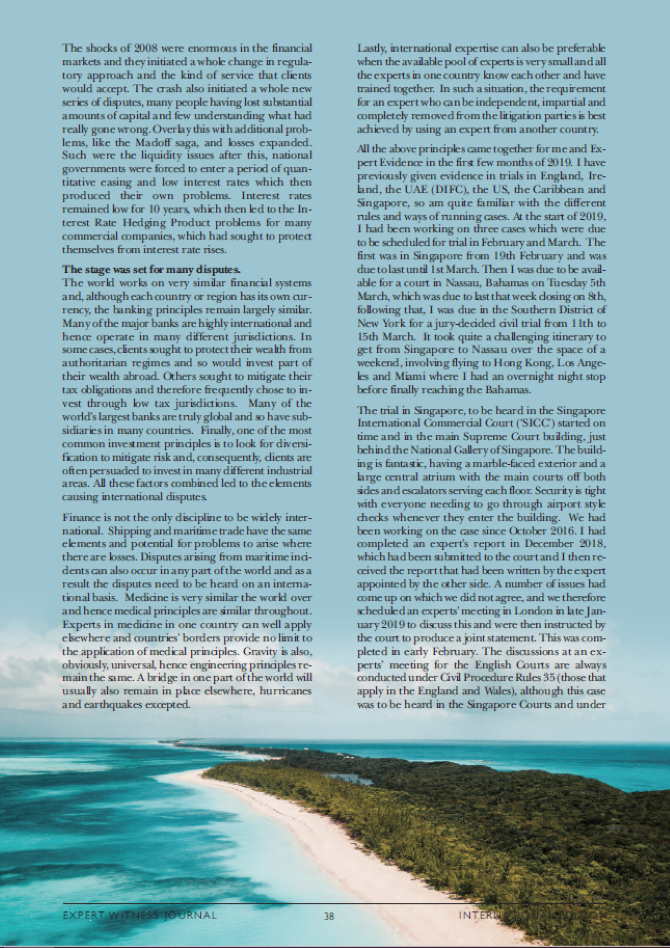 Expert Evidence International Limited prides itself on assisting throughout the legal process where required and is a professional firm concentrating on the four main areas of dispute resolution; acting as expert witnesses in financial litigation, mediation, arbitration and adjudication. The firm has a civil, criminal and international practice and has advised in many recent cases. Areas of specialisation include banking, lending, regulation, investment, and tax.
Ask a question about Expert Witness services. We are here to help!

Contact Us Now
Disclaimer – Please confirm any of the above views with your solicitor. Expert Evidence takes no responsibility or provides any guarantee that the views above are correct for your particular case or jurisdiction.